What is a Hitachiwagyu Beef Registration System?
For the proof of the genuine Hitachiwagyu Beef provider, Ibaraki Hitachiwagyu Beef Promotion Association issues the certificate for designated restaurants or retaillers and wholesellers.
In Japan, all the Hitachiwagyu Beef farmers and the traders are registered to promote and uphold the standerds for Hitachiwagyu Beef.
Not only the production side, the retailers and restaurants are registered as a Hitachiwagyu Beef official seller.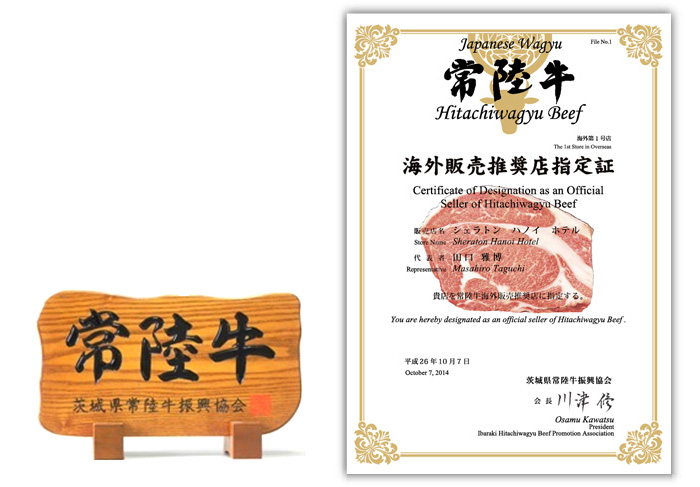 *Designated buyer: the buyer who is authorized to attend the wholesale market
*carcass: carcass is the meat which is slaughtered, removed skin and cut off head and internal organs. Normally
they are cut half (right and left). The designated carcass are graded and sold at wholesale meat auction followed
by the carcass trading system standard.
For confirming the traseability check this link(English only)
Want to Become a Hitachiwagyu Beef Registered Seller?
To become an official Hitachiwagyu Beef seller (retailer, restaurant or wholeseller)
Please see the following chart.
For further information, please contact us via e-mail.
Restaurant/Shop
Contact to Ibaraki Hitachiwagyu Beef Promotion Associoation
e-mail:info@hitachiwagyu.com
Introduce you available local wholeseller
Sigh up with us to register as Hitachiwagyu Beef official restaurant or shop
Wholeseller
Contact to Ibaraki Hitachiwagyu Beef Promotion Associoation
e-mail:info@hitachiwagyu.com
Introduce you available local wholeseller
(Available in Thailand and Vietnam as of Oct.2015.)
Sigh up with us to register as Hitachiwagyu Beef official wholeseller